Joe's Food Center
519 West Highway 16 • PO Box 770 • Upton, WY 82730
United States
Hours of Operation: M-Sat 7am-8pm Sunday 9am-6pm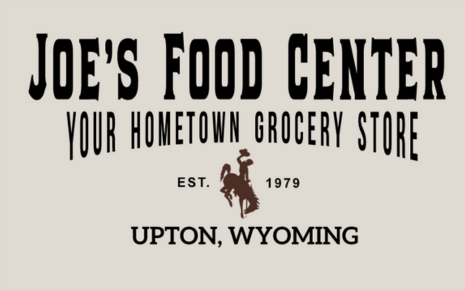 Joe's Food Center, established in 1979, is the main provider of groceries, food and service in the town of Upton. Just a few of the main reasons to shop local is their meat department, which features a full-time on-site butcher, full-service deli, serving donuts in the morning, to pizza, chicken, and other fried food in the afternoon. Joe's Food Center features an in-house coffee shop, which serves specialty drinks, made from Dark Canyon Coffee Company. The employees at Joe's Food Center stand by the community's motto, "Think Upton First", and thank you for shopping and supporting local!
The current Joe's Food Center was established in June of 1977 when purchased by Joe Haynes. The current location was built in 1979. Joe passed away on Christmas Day of 1996 and operations continued under his wife Carmen's direction until January of 2020 when sold to his daughters Buffy and Jaki.
Products/Services: Full deli offering fresh donuts Monday-Saturday, broasted chicken and pizzas, self-service lunch counter with daily specials. Brand new Coffee shop opening April 1, with style espresso-based coffee, full meat counter with on-site butcher.